I'm not going to post about anything else today save for the SUPREMELY AWESOME SWAP PACKAGE I got LAST FREAKING MONTH. It was for the Loopy Ewe Spring Fling Swap and I got it right before Matthew came home. You remember how much I blogged then right? Well, then the Fling came along and I got to meet my AMAZING partner LynnZimm (Rav Link). But (hangs head in shame) I still hadn't blogged about it. Then I moved. Then this and that and a whole bunch of other life-getting-in-the-way things. SO. I'm sorry Lynn, please don't hate me (and that bag I made you? It's somewhere in the boxes-I didn't forget).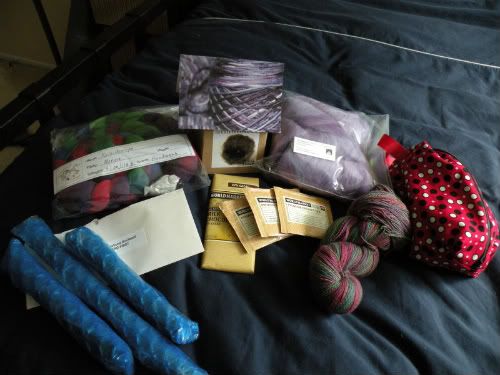 Gorgeous Roving!; The green/purple/blue is Kaleidoscope by Freckle Face Fibers and the purple bag of holy goodness Merino w/ sparkle. I'm saving this and not spinning with it until I'm really good. (Trust me, in the next post you'll see).

Yarn; Yeah , she spun that. It's simply amazing. It's so even and perfect. I am so eternally grateful I didn't spin up any to give to her (I just bought some) because she is amazingly perfect (and I'm not exaggerating in my shame, I said do to her face-so there :P) and, and...it's so EVEN! I bow down.

The red black and white bag; She made that too. She gave it to me at the fling actually, and it's next to my red Ladybug spinning wheel holding my spinning supplies.

There's an adorable sheep felting kit as well as delicious chocolate (I held on to that until the hus-beast started eying it after he ate all his chocolate he brought back from Germany), tea (completely gone)and the adorable yarn card.

But seriously? The best part; the blue bubble wrapped sticks. She gave me a portable niddy noddy! OMG! I shrieked so loud when I saw it that the cat ran out of the room. My brain went sploody and I started babbling at my mom-who I might add looked at me like I was crazy... (a niddy noddy? That's nice dear). She does, thankfully, get my brand of crazy-ness.

So Lynn, thank you so much again for the lovely swap package. And I'm really, horribly, sorry it took me forever and a day to blog about it.