Nothing has been going on really on the knitting front so allow me to distract you with a quilt top I finished and sent off to be quilted this weekend: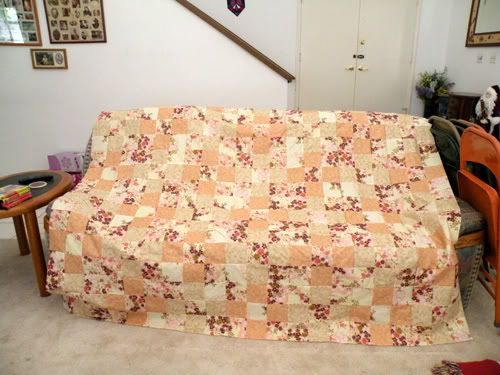 That is draped over my parents sofa. I had pieced the blocks 2 years (ish) ago and was planning on adding sashing to it but since it was supposed to be a gift for someone I'm no longer friends with and they aren't my colors, I said "Screw it", and sewed it as is. It'll make a great throw to snuggle under, take to the park or let guests use. But I'm pleased it didn't take too many hours of my life.

Here's a detail shot of the material.




Other than that I've been spinning a little, and will have to up that since I got 8oz of roving from my mom for xmas of one type of colorway and 100 grams of roving of another as well as 8oz bats from my lovely Loopy Ewe swap partner. Anyway, I have tons of idea swirling through my brain so I need to get going. Have a good day everyone!


AND!!! Speaking of the Loopy Ewe, I got into the Spring Fling!!! I'm so excited! I get to meet so many people I've become friends with and I can't can't can't WAIT to go!